Coin and Bullion of Pensacola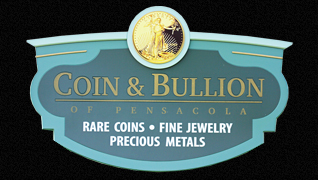 Coin and Bullion of Pensacola is Northwest Florida's premier gold and silver bullion and jewelry store. In this business, trust and experience IS THE DIFFERENCE. There are a lot of options in which you can buy or sell gold or silver bullion, jewelry or etc, but there are few destinations which are the wholesalers for the industry. Coin and Bullion of Pensacola is the clearing house for most of the area's gold and silver dealers. This is one of the reasons why we can offer you more, by dealing directly with the wholesaler.

Coin and Bullion with over 50 Years of combined experience in dealing with precious metals, sterling silver, gold, rare coins, graded and certified coins, gold and silver foreign coins, antique, broken and old silver and gold jewelry as well as estate valuables no one will offer you more. Over the years, Coin and Bullion of Pensacola has gained the trust of 10,000's of customers trusting us with their most valuable assets. Whether it is a rare or simple diamond, bracelets, rare coins, historic pieces, old or broken jewelry we have seen and traded it all. We also do free evaluation services where we will appraise your items. We are one of the most trusted and experienced destinations to buy or sell your rare coins and bullion and you can take that to the bank.